San Luis Obispo County Cannabis Business Association,  "Cultivating relationships, ideas and solutions for SLO County cannabis businesses."
Join SLOCCBA for the March 22nd Meet & Mingle at The Firefly Haven, Arroyo Grande, CA                                                          **Limited to 30 attendees only!** 
5:30 - Doors open for mingling.
6:PM -Regulatory, Legislative & Compliance Updates, Know the "Rules of Consumption" in SLO County and cities. 
**Exclusive reveal from a local vertically integrated cannabis business, be the first to see the topical product line up! Stay tuned for more details.
6:30PM- Mix - Who's who and who and what do they do?  Each Attendee will have an opportunity to introduce themselves. Please be prepared to state your name, business, what you services or products you have to offer, or your request for products or services.  Bring your business cards or contact information.  Contact the organizer to arrange a specific connection you'd like to make.
7:00PM- Mingle aka, Networking.  It is our goal that by this time you have a pretty good idea of who you want to connect with. Go get em!
Enjoy refreshments and appetizers brought to you by Natures Kitchen in Templeton!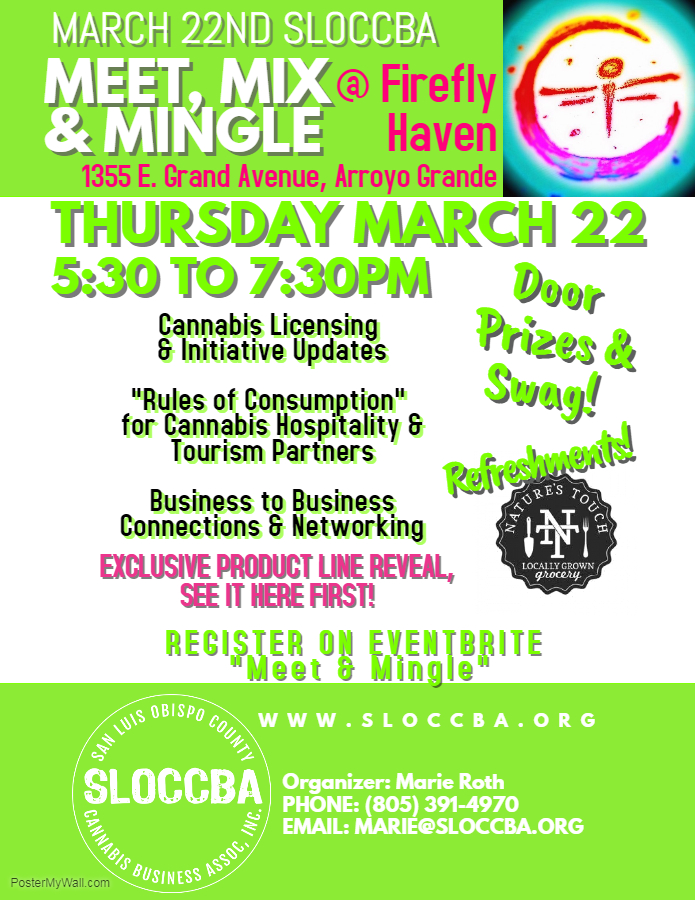 General admission to the event is $100.
Future events dates are:
April 26th - TBA
May 10th - Wine & Weed Symposium at Embassy Suites
June - SLO Arts Museum
Thank you to the many business professionals bringing valuable information to cannabis business owners & consumers, and those who plan to be seeking any type of license approval, both locally and at the state level.
Interested in membership?  Please call (805) 391-4970 and speak with Marie regarding the many different ways to become involved and support our mission to provide quality, locally grown cannabis products to the regulated marketplace.
If you are a:
Professional business service
Cannabis Industry Stakeholder
Consumer
SLOCCBA Membership provides you:
Professional Business Referrals
Local Government & Agency Liaison
Community & Consumer Education
Access to events and latest industry developments
Discounts with affiliate members